The MassARRAY® System by Agena Bioscience combines mass spectrometry, sensitive and robust chemistry, and advanced data analysis software to meet the assay design, validation, and performance needs of genomic laboratories.
A Flexible, Scalable Genetics Platform
The MassARRAY System simplifies the process of design and implementation of new testing paradigms in the laboratory.
Select the application best suited to your area of interest.
Choose from a variety of pre-configured reagent kits, or select one of our general reagent kits and use our assay design software to customize with your own primers and probes.
The sensitivity of the Agena Bioscience chemistry allows a variety of sample types to be tested, from FFPE, to blood plasma, to whole genome amplified DNA.
Any combination of method, reagent, application, and sample type can be tested and analyzed using the MassARRAY System and software.
Unique Technology
The MassARRAY System is a non-fluorescent detection platform utilizing mass spectrometry to accurately measure PCR-derived amplicons. Mass spectrometry, coupled with end point PCR, enables highly multiplexed reactions under universal cycling conditions to provide accurate, rapid, and cost-effective analysis. The MassARRAY System offers a unique solution for targeted genetic testing with limited input material.
Simplified Workflow
This novel utilization of MALDI-TOF mass spectrometry provides laboratories the tools required for basic, applied, and clinical research.
Fast turnaround time in less than a day
High multiplex capability from a single well (up to 40-plex)
Low reagent cost
Quantifiable results
Reduced bias compared to RT-PCR
Customizable reports for comprehensive data review and interpretation
Advanced Automation Now Available
The Chip Prep Module enhances the capabilities of the MassARRAY® System with automated post-PCR sample processing. Compatible with the MassARRAY 96 or MassARRAY 384 -format System, the Chip Prep Module minimizes hands on time and reduces the risk of contamination associated with manual handling.
Amplify productivity and harness operational efficiencies with true load-and-go processing
Maximize throughput with overnight runs
Achieve high quality results with reduced sample handling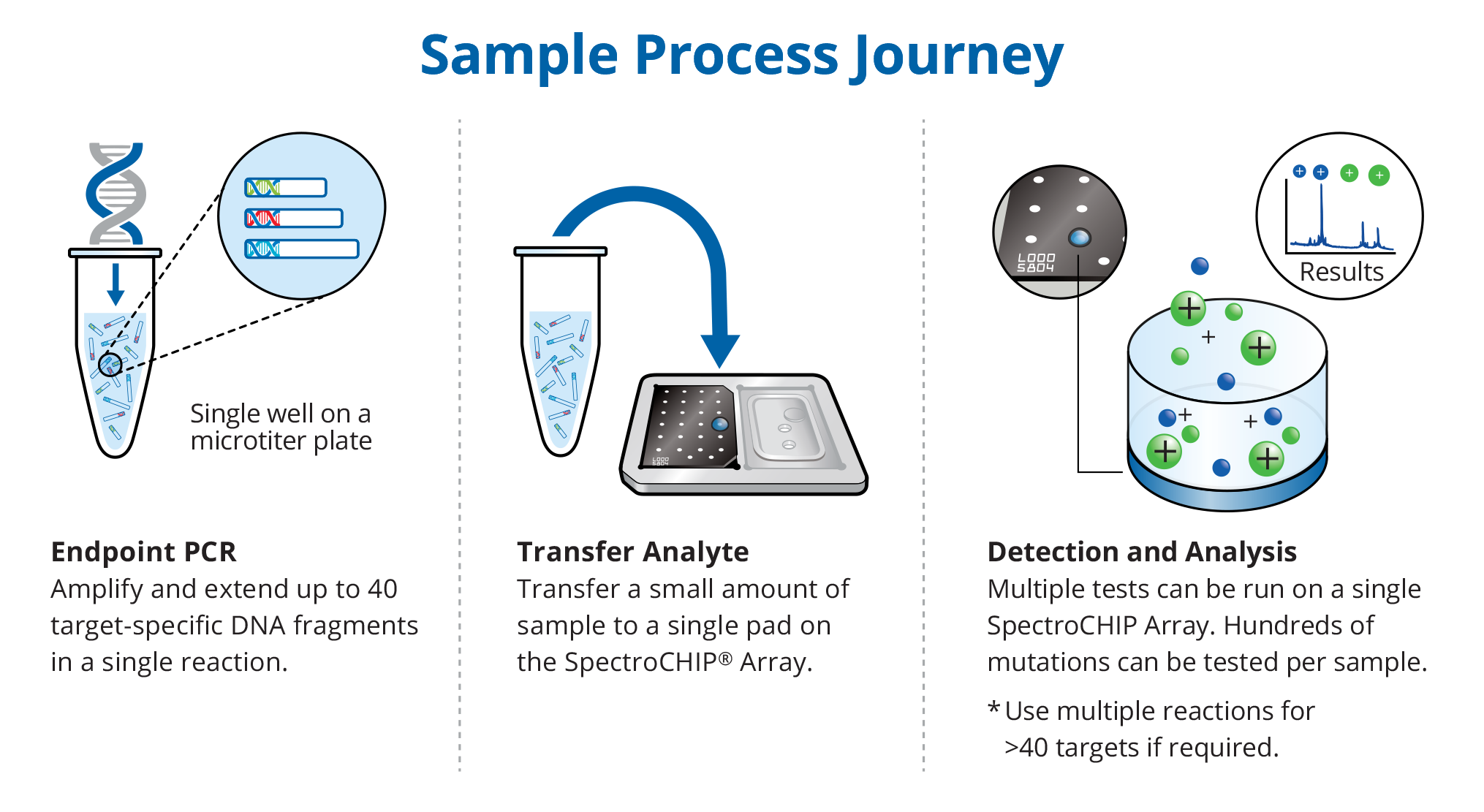 Applications
The MassARRAY System is an open platform that empowers laboratories to perform a variety of DNA and RNA analysis. The following applications are currently available:
Genotyping and mutation detection
Ultrasensitive detection
Methylation analysis
Choose one of our predesigned panels, use our Assay Design Suite software to design your own tests, or take advantage of custom assay development services from Assays by Agena.
Download our system brochure for more information.