Agena Bioscience's software provides simple, flexible, and robust capabilities, from designing your own assays to obtaining user-friendly reports for downstream data analysis.
Rapid Assay Design
Genotyping and Mutation Detection
Assay Design Suite (ADS) is an online tool for designing genotyping and mutation detection assays for use with Agena Bioscience's  MassARRAY® System and our iPLEX®, iPLEX HS, and UltraSEEK™ chemistries.

ADS offers an automated, flexible design tool:
Automates process- no need to worry about primer design guidelines for PCR or mass spectrometry.
Universal thermal cycling conditions for all assays.
Rapid assay development with >80% success rate after first round.
Add or remove mutations of interest as studies or needs evolve.
Assists in PCR primer design for new and experienced users alike.
Exports assay design report to expedite oligo orders.
Quick summary of ADS workflow:
Retrieve and Format Sequences
Import rs numbers from NCBI dbSNP, FASTA file, or SNP Group files.
Find Proximal SNPs
Align SNP sequences to the specified genome and re-format the sequences with registered SNPs in close proximity to the specified assay.
Identify Optimal Primer Areas
Reformat SNP sequences to demark PCR primers that will result in a unique product.
Design Assays
Generate multiplexed assays. Genotyping assays can multiplex level up to 40, and somatic mutation assays can multiplex up to 15, in a single well.
Validate
Analyze multiplex designs to identify unintended cross amplification that could lead to false positives during analysis.
Manageable Results
The MassARRAY System includes Typer software, an integrated data analysis tool enabling you to readily evaluate and manage results.
Automated report generation
Display data in table and graphical formats
Utilization of cluster analysis
Automated error checking
Easy-to-use, interactive HTML reports allow you to easily visualize your results and drill down to more detailed data.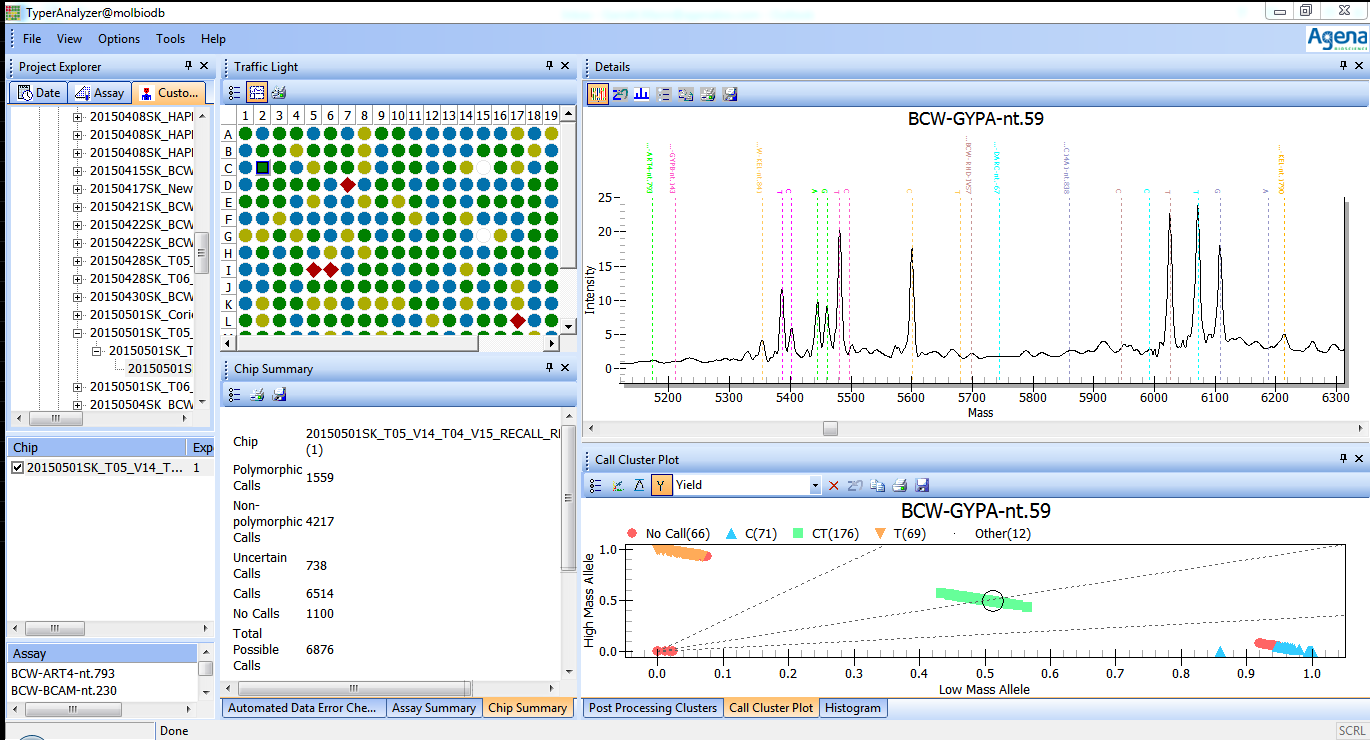 Other Applications
Methylation Analysis
EpiDesigner is an online tool for designing quantitative DNA methylation experiments for Agena Bioscience's EpiTYPER® technology. This program allows simple design of primers for bisulfite treated genomic DNA and recommends primer pairs for individual assays.